Easy InnKeeping hotel reservation software for Hotels, Motels and Resort Properties that manages the marketing, booking of rooms for hotels, motels, and resorts. Easy InnKeeping hotel management software helps manage the day-to-day business for hotels and resorts with a call accounting interface, group reservations, night audit reporting and swipe credit card interface for quick check-ins! Easy InnKeeping is easy to use for front desk personnel and also provides security settings so that any critical data is protected. Easy InnKeeping is a flexible system that you can buy all at once or expand as you want to add features.
New extensive property software suite allows unlimited property management reporting and helps track daily transactions. Easy InnKeeping version 3.1 property management software includes group billing management, innumerable reports like Housekeeping report, Group reservation report, Call Accounting report, and cancellation report.
Hotel Reservation Software can export financial data to other accounting software programs – the Intuit line of products. They offer you the easiest way to organize your finances and prepare for taxes. Easy InnKeeping exports room and sale revenue data to QuickBooks. The Intuit line of products gives you the power to manage your business finances quickly and easily.
Property Management Software features: Rooms & Rates

Easy WebRez Module

Using Easy WebRez, properties can provide current availability information on their websites. This component seamlessly links Easy InnKeeping software with the availability information posted on their website. This allows their guests to immediately make online bookings from the website. Click here for an example of linking this service to your web site.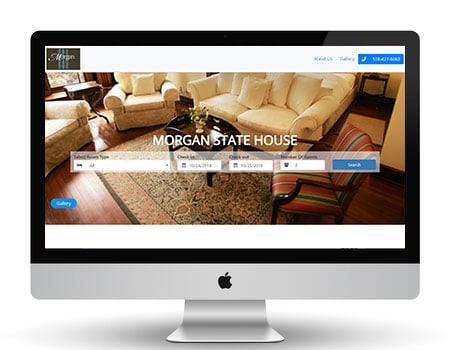 Credit Card Swipe

Swipe the card through a magnetic stripe reader, which reads the track data from the back of the card and sends it off to the bank for verification
Call Accounting

Your phone system can communicate with Easy Innkeeping and automatically add phone charges to your guest's bills!
Data Management & Security

– Employee Security: Password protection
– Configure access to all areas of the software. Decide which employees can add, modify, view or print reservations, reports, invoices, rates and taxes.
– Define levels of privileges allowing employees to access only screens that they have permissions for.
Reservations

Guest, reservation & payment information in one central screen
Send email and print confirmation letters.
Individual & Group Reservations
Flexible rate structure displayed with currency
Automatic recall of credit card numbers
Automatic room allocation based on seasonal rates defined
Track Referral Source
Quick Reservation

– Quick Reservation This screen requires nothing more than what's needed for a reservation. Select date and room from calendar – then enter guest payment and contact details. Finished! Return to the calendar later to "check-in," print a bill or add charges to their room.
Inventory Point of Sale

This screen now provides the ability to assign separate taxes to a variety of sale items or services at your property.
Perfect for innkeepers who either wish to pay other charges, such as lunch, gift shop sales or other services provided in your property.
Custom Reports

– Custom Reports Delivers a variety of intuitive analyses reports, from Occupancy report, Income summary reports to complex custom reports. Choose from more than 12 standard reports, which you can preview and print. Customize each report and generate new synopses to accommodate a full spectrum of organizational management.
Letters

From the calendar screen, immediately print or e -mail confirmation details!
Customize letters and forms
Print Mailing Labels
Minimum Nights Restriction

– Allocate minimum nights restrictions during certain periods of the year like Memorial Weekend. When minimum nights requirements are not met, the restriction message will be displayed.
Seasonal Rates

The different rates and its corresponding seasons are defined in this screen. The Seasonal rates override the regular rate.
Automatic room allocation based on seasonal rates. Allows for unlimited rate plans.
Group Reservation

– Make a reservation for the group leader
– Helps you to reassign the existing guest and the billing can be done as a group or split and paid.
Guest Tracking

One easy – to – read screen !
Detailed guest Information.
View Complete reservation history
View Guest's past cancelled reservation in the History section of the Guest screen.
Search guests based on different criteria like Phone number and Address.
Chart of Accounts

– This screen now provides the ability to assign separate taxes to a variety of sale items or services at your property.
– Perfect for innkeepers who either wish to pay other charges, such as lunch, gift shop sales or other services provided in your property.
Professional essayists can assist those who aren't sure how to create a flawless essay. Essay writing online services guarantee paper helper top marks for your work. They work only with highly qualified essay writers who are higher educated and have many years of experience in their respective subjects. You will receive an essay written to meet your requirements and that meets your professor's specifications. These authors are readily available for support with essays in numerous ways.
Perhaps you're wondering how you can find a reliable service when you're looking to get an essay written for you. Here are a few tips. Find a company who employs essays online to buy specialists and academics who are experienced in your subject field. They include academics as well as researchers who have a good reputation on their own fields. You'll have the ability to track the process and control it in real-time when you select a provider suitable for your requirements.